1. Introduction
The discipline "Design Engineering" includes two different areas. The one is the new trend technology which bases on rapid development of computer aided technologies such as CAD, CAM or CAE. The other is the traditional design technologies based on the conventional knowledges and know-haws piled up by great forerunners. The range of this dicipline thus spans very wide area, from specialistic engineering fields such as mechanical engineering, electronics and architectonics, to newly developed fields such as system engineering, industrial engineering, reliability engineering, safety engineering and human engineering. The application of design engineering also covers various fields like mechanical design, architectural design, interior design, computer graphics, arts, technical drawing standards, CAD and so on.
Many technical high schools, technical junior colleges, senior colleges, universities and industrial companies has taken account of design engineering and technical drawing, which is highly related to design engineering. Those various academics and industries have influenced on the activities of JSDE. This variety of the related fields and organizations is one of the most important merit and characteristic of our society, JSDE.
JSDE will keep providing a lot of programs of information exchanges and human communications that are related to design engineering, for the public, in order to contribute to the improvement of related academic studies and technologies, and also to show our presence as a significant information center of design engineering.
We would like to address our activities to people those whom are related to or interested in design engineering, to get kind understandings. It is the most significant mission of JSDE to have many memberships and achieve a great progress together.
We are sincerely welcome you to join our membership.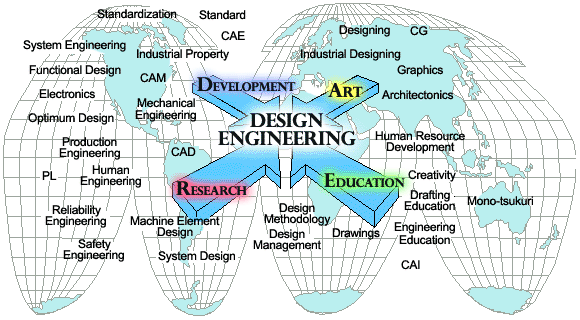 2. Greeting from JSDE president
As the successor to the former president, Kazuyuki Sasashima, I became the president of the Japan Society for Design Engineering. We will do our best to develop the Society, and we ask for the support and cooperation of all our members.
By the way, in 2020, the new coronavirus (COVID-19) spread all over the world and had a great impact on our lives. At this meeting, the spring research presentation lecture scheduled to be held at Meisei University in May 2020 has been canceled. In addition, the seminars and tours planned at the same time were also cancelled. At that time, I thought the influence of the corona was temporary. But soon you realize that it isn't. If this situation continues, the significance of the society's existence may be questioned. Therefore, with the determination to hold the research presentation lecture in the fall of 2020, we repeated the examination and conducted it in the online web format. Following that, the international conference ICDES2020 @ Kitakyushu hosted by the Society was also held online in web format.
I hope that the problem of the new coronavirus will eventually subside, but even if it does, I am confident that various things will not return to the original situation and a new era will surely come. It is necessary to constantly think about what the role of academic societies should be in such a new era. A new era requires new ways of thinking, new methods, and new forms. For that, we need the cooperation of our members. We ask for your continued understanding and support for the activities of the Society.
November, 2020
Jun Tomioka
Prof. and Dr. of Engineering,
Faculty of Science and Engineering,
Waseda University
3. The history of JSDE
Our society was founded as Japan Society for Research of Design and Drafting at May 14, 1966. At that time, the word 'design' was directly recognized so as to be realized through technical drawing. The name of the society was given after such philosophy that strongly connects design and drafting. The number of original members was 440. Eighty percent of them were affiliated with educational organizations. Since the founding, publishing of journals and holding of annual conferences have been maintained as primary activities.
In 1970, the society was renamed Japan Society of Design and Drafting and was accredited as corporate aggregate by Minister of Education at April 1st, 1978. The worldwide engineering trend began to aim at intelligent technologies. In this trend, the meaning of design was also changed to effective application of newly developed technologies onto commercial products, however, the most practical representation of design was still drafting. The organization structure of the new academic society was established based on that philosophy. At January 23 in year of 1989, the society was again renamed Japan Society for Design Engineering, to clearly represent our mission and necessity of wider concept of design including drafting. Our journal title was also changed from 'Design and Drafting' to 'Design Engineering'.
Since the founding, eight branches have been established in nationwide. The number of membership also has been increasing. In 1997, we had 1,300 of memberships, 60% from educationist and 40% from companies. In the year of 2006, JSDE celebrated 40th anniversary by holding International Conference on Design Engineering and Science (ICDES2005) at Vienna, Austria from October 28 to 31. The title of the conference included the word 'Science' to reflect our wish that the understanding for the difference of production approach and design philosophy behind design drawings would be deepened under the prediction of today's internationally united and borderless world. Recent researches of design engineering has widely been extended in cooperative design, optimizing design, universal design, satisfying design, energy saving design, reverse engineering, concurrent engineering, CAD, CAE, CAM and so on. Such variety of research topics significantly represents the profundity of design engineering. We wish you to utilize our society as effective place of communication and information transmission on design engineering.
JSDE chronological table
1966
May 14th
Japan Study Group of Design and Drafting was founded.
Dr. Takeo Yoshizawa was elected as first president.
Journal 'Design and Drafting' was published 4 times per year.
1967
Jan 15th
Hokkaido branch was established.
1968
May 25th
Kyushu branch was established.
Nov 23rd
Kansai branch was established.
1969
Apr 19th
Tokai branch was established.
1970
Apr 1st
The society was renamed Japan Society for Design and Drafting.
1971
Journal 'Design and Drafting' was published 6 times per year.
1974
Jun 14th
Chugoku branch was established.
Triarchy system for vice president was initiated.
1975
May 17th
Tohoku branch was established.
Jul 21st
Shikoku branch was established.
1976
Apr 17th
Hokuriku branch was established.
1978
Apr 1st
Accredited as corporate aggregate.
1979
Journal 'Design and Drafting' was published 9 times per year.
1982
Honor membership system was initiated.
Journal 'Design and Drafting' was published 10 times per year.
1983
Journal 'Design and Drafting' Vol.18, No.100 was issued.
1986
May 24th
20th anniversary event was held at Keio University.
Journal 'Design and Drafting' was published 12 times per year.
1989
Jan 23rd
The society was renamed Japane Society for Design Engineering
Journal was also renamed 'Design Engineering'
1996
30th anniversary year
1998
JSDE web site was opened.
2005
40th anniversary event, International Conference on Design Engineering and Science (ICDES2005) was held at Vienna, Austria.
2006
40th anniversary journal Vol.40, No.12 was issued.
2009
Sep
JSDE web site was renewed.
2010
Nov
International Conference on Design Engineering and Science (ICDES2010) was held at Tokyo, Japan.
2011
Apr 1st
The organization of JSDE was modified to public interest incorporated association.
2014
Sep
International Conference on Design Engineering and Science(ICDES2014) is held at Pilsen, Czech Republic
2016
50th anniversary of foundation
2017
Sep
International Conference on Design Engineering and Science(ICDES2017) is held at Aachen, Germany
2020
Nov
International Conference on Design Engineering and Science(ICDES2020) is held Online
Benefits of JSDE Membership
♦ Monthly journal "Design Engineering"
JSDE monthly journal "Design Engineering", completed with not only latest academic papers about outcomes of researches, developments and education activities, but also dissertations, essays, tutorials and case studies that are useful for people who are involved in practical business in company or education activities, is delivered directly to you.
As for paper submission, limitational factors are reduced as possible so that one can submit a paper without having conference oral presentation as long as it is related to design engineering.
♦ Invitation for conferences
JSDE annual conference has been held on each spring and autumn on every year and also held by branch's discretion. Special symposiums and design forums are held at the same time. JSDE members can give presentations and exchange the latest research outcomes at those events.
♦ Invitation to various events
JSDE has scheduled many workshops lectured by active trailblazers in industrial or educational field. Excursions are programmed several times on every year, except for factory tours that are held concurrently with annual conferences. Design Symposium is one of the biggest and most high-acclaimed event of JSDE, which has been held with latest trend of industrial or educational field as theme.
♦ Research investigation activities
JSDE has established several specialized sectional boards focusing on significant issues on industrial and educational field, in order to promote joint researches between industrial and academic field. Outcomes from those activities are reported on our journals so that society members can obtain and utilize those informations immediately. Several projects titled "Commitee for drafting ISO/JIS standards" or "Commitee for CAD standardization", delegated by Agency of Industrial Science and Technology, Ministry of International Trade and Industry are the examples of these activities.
♦ Benefits for supporting members
(1) Each unit of supporting membership entitles three memberships for constituent persons.
(2) One constituent person per each unit of supporting membership can attend at conferences and workshops held by JSDE at no charge.
(3) The list of the supporting members is printed on JSDE journal.
(4) Discount of advertisement fee of JSDE journal is applied.
♦ Discount of student membership fee
For students belong to specified educational agencies authorized by committee, membership fee becomes half off the regular membership fee.
5. The steering committee
44th and 4tth Steering Committee on year 2021 and 2022
President
Jun Tomioka(Waseda University)
Vice Presidents
Nobuyuki Iwatsuki (Tokyo Inst. of Tech.)
(Business executive committee, General Affairs and Finance)
Yoshiyuki Matsuoka (Keio Univ.)
(Enterprise)
Tamotsu Murakami (The Univ. of Tokyo)
(Research Investigations, ICDES2020)
Board Directors
Nobuyuki Iwatsuki (Tokyo Inst. of Tech.)
(General Affairs and Finance)
Yoshiyuki Matsuoka (Keio Univ.)
(Enterprise)
Tamotsu Murakami (The Univ. of Tokyo)
(Research Investigations)
Kennichi Kobayashi (Meiji University)
(Publication)
Executive Board Members in HQ
Masato Inoue (Meiji University)
Yusuke Ota (Chiba Institute of Technology)
Kazuya Okusaka (ARTNER Co., Ltd.)
Takeo Kato (Keio University)
Kosei Kikuchi (Chiba Institute of Technology)
Toshitake Tateno (Meiji University)
Toyomi Miyagawa (Nippon Institute of Technology)
Tomoyuki Miyashita (Waseda University)
Hidekichi Yanagisawa (University of Tokyo)
Yoshiaki Yamazaki (Meisei University)
Executive Board Members in Branches
Hokkaido: Toshiharu Kazama (Muroran Inst. of Tech.)
Tohoku: Mitsuo Nagao (Nihon Univ.)
Tokai: Takahiro Fujimatsu (Suzuka National College of Tech.)
Hokuriku: Hitoshi Suwabe (Kanazawa Institute of Technology)
Kansai: Takeshi Sawai (Osaka Sangyo Univ.)
Chugoku: Fumihiro Suzumura (Hiroshima Inst. of Tech)
Shikoku: Toru Ishida (Tokushima University)
Kyushu: Ryohei Ishimaru (Kurume National College of Tech.)
Auditor
Tsutomu Araki (Professor Emeritus, Tsukuba University of Technology)
Kazuyuki Sasajima (Professor Emeritus, Tokyo Institute of Technology)
For the history of previous presidents, directors and Councilors, please refere here.
6. The Article of Society
Please download the PDF File and read it (Currently no English version is available).